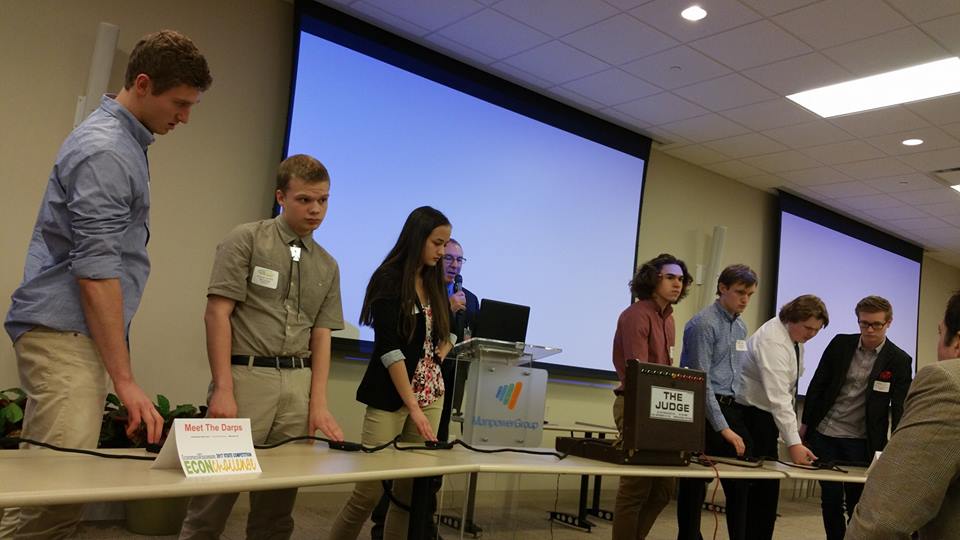 State Level Wisconsin Competition
EconomicsWisconsin is offering face-to-face Economics Challenge Competitions.
April 9, 2018 – ManpowerGroup, 100 Manpower Pl, Milwaukee, WI 53212
April 10, 2018 – Miron construction, 1471 McMahon Drive, Neenah, WI 54956
April 11, 2018 – Dove Healthcare, 1405 Truax Blvd, Eau Claire WI 54703
---
ALL TEAMS MUST BE REGISTERED ONLINE BY APRIL 2nd, 2018!
Registration is FREE and EASY!
Register as a teacher/coach. Your registration will be reviewed (within 48 hours) and approved, then…
Log back in and create your team(s) of 4 students in the appropriate division (competing with 3 team members is acceptable, if necessary).
Download unique access codes for each of your team members. Each access code must be used by the student for whom it was created.
Have each team member visit the National Economics Challenge portal, click on "Student Access," and complete the information requested.
Rules, practice tests, and more information on preparing for the competition can be found on the CEE Website.
---
The Wisconsin Economics Challenge is an opportunity for teams of three (3) or four (4) high school students (four team limit per school) to demonstrate their knowledge of economics concepts in a competitive and FUN atmosphere! Any Wisconsin student enrolled in a high school course for credit during the 2017-18 academic year can participate. Students can compete at one of three host sites.
How does the Economics Challenge work?
The EconChallenge, presented by EconomicsWisconsin, starts with individual micro and macro tests. Then, each team takes a group exam on international economics/current events. After lunch, all teams participate in the Super Quiz. The day concludes with the top two teams in each division going head-to-head in the Quiz Bowl.
Statewide winners can participate in the National Semifinals at their own school on. The top four teams in the semifinals will qualify for a trip to New York City to compete in the National Finals sponsored by the Council for Economic Education!
More information can be found on the CEE Webiste.
---
Thank You to Our Sponsors!
Arnold & Lois Domer Foundation