EconomicsWisconsin celebrated the accomplishments of schools from across the state at our annual awards banquet recognizing the top teams in who competed in our Stock Market Game and EconChallenge. Thank you to the Argosy Foundation for their support of our competitions. Click here to see photos from the awards banquet and the New York trip.
Stock Market Game Winners
Students begin with $100,000 to invest. As a team, they must make at least three trades based on their research in the investment. The top teams had the highest value for their portfolios. In total, over 1200 teams composed of 4,000 students competed statewide. Students learn the value of investing, teamwork, decision-making and potential career opportunities. Many of our Wisconsin team finished within the top 15 nationally. Thanks to our donors, Dodgeville High School and Badger Elementary teams were able to travel to New York visiting the New York Stock Exchange, the Securities Industry and Financial Markets Association, took in a Broadway show and more!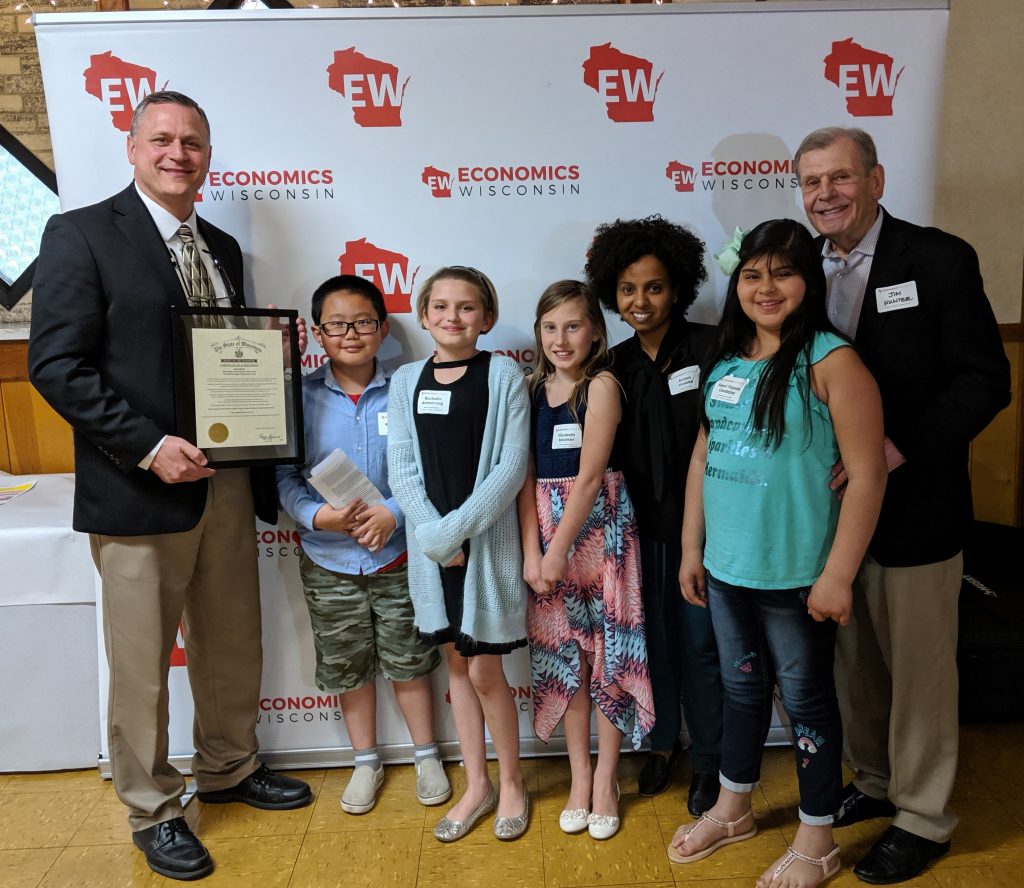 2018 Fall Semester
Middle School Division
Edison Middle School
Jefferson Middle School
High School Division
Dodgeville High School*
Sparta High Point School
St. Catherine's High School
2019 Spring Semester
Elementary School Division
Badger Elementary School
Badger Elementary School
Badger Elementary School
Middle School Division
Badger Elementary School
Brookfield Academy
Badger Elementary School
High School Division
Pius XI High School
Marienette High School
DePere High School
EconChallenge Winners
This challenge is a quiz style bowl game that offers an opportunity for students to test their economics knowledge. Teams compete statewide and nationally. If a team is one of the top 8 in the country, they are invited to New York to compete at the national Council of Economic Education finals. Our top teams did not make it to New York, but placed very high this year. The students on each winning team received a $50.00 gift card.
Adam Smith Division Winner: Marquette University High School
David Ricardo Division Winner: Melrose Mindoro High School
Our 2019-2020 Stock Market competition begins in early October and EconChallenge in March. To learn how your school can take part, subscribe to our e-news
You can call us 414-221-9400 or email econed@economicswisconsin.org
May, 2019